Ferrets
If you have ever wanted a small, furry creature, a ferret might be a good option. Ferrets spend most of the day sleeping and like to eat meats.
The tips in this section can help you learn more about ferrets and what is required to care for them. You'll find information about why they make good pets, what supplies you'll need, and how to wash your ferret.
Tips, Tricks, and Answers
The following articles are available for the 'Ferrets' topic. Click the article''s title (shown in bold) to see the associated article.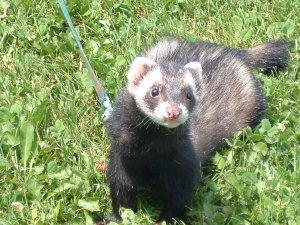 Basic Ferret Care
Ferrets require a lot more of your attention than a cat or dog would. There are many things to do to make sure you keep your ferret happy and healthy.
Do Ferrets Make Good Pets?
When sitting down to consider what type of pet to get, be sure that you cover all the bases. Take the time to as your self the simple question of do ferrets make good pets. Here is some information that just might help you answer that question.
Ferret Supplies
Any new pet owner is going to need to visit the store to get a few items. Use this simple list of ferret supplies to help you decide what you need to get for your new ferret.
Washing Your Ferret
Washing your ferret can be a fun and entertaining event, as long as you know what it is that you are doing. If you attempt washing your ferret improperly, you could cause damage to yourself and your fuzzy little friend. Here's how you can do that.