Sporting Dog Breeds
The many breeds of sporting dogs can be trained to hunt. They are also good companion dogs and are very friendly.
Some of these breeds include the Cocker Spaniel, English Setter, and Labrador Retriever. You'll find information about these breeds, and others, in this section of tips.
Tips, Tricks, and Answers
The following articles are available for the 'Sporting Dog Breeds' topic. Click the article''s title (shown in bold) to see the associated article.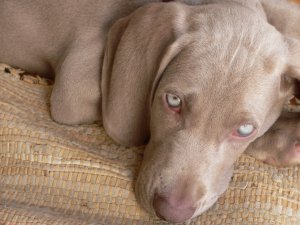 American Water Spaniel
Popular in the Midwest, the American Water Spaniel can withstand harsh weather and heavy current. He is an excellent retriever, showing great strength and endurance.
Brittany Spaniel
The Brittany Spaniel is one of the more unique Spaniels. He has a natural instinct for pointing and retrieving.
Chesapeake Bay Retriever
The Chesapeake Bay Retriever is a valuable hunting companion. His great strength, extraordinary memory, unusual aggressiveness and ability to withstand the elements are ideal for the duck hunter.
Clumber Spaniel
The Clumber Spaniel is the easiest to train of the Spaniel family. He has an excellent nose and is ideal for leisurely hunting in small fields.
Cocker Spaniel
The Cocker Spaniel's popularity is one of the greatest in the world. His beauty and merry disposition make him an excellent pet.
Curley-Coated Retriever
The Curley-Coated Retriever is both sweet tempered and easy to train. His great stamina and swimming skills make him a perfect dog for duck hunters.
English Cocker Spaniel
Bred for hunting, the English Cocker Spaniel is strong and fast with great stamina. He is loving and faithful, making him a perfect addition to any family.
English Setter
The English Setter is a great game bird and gun dog. He is sensitive and thrives on attention and affection, causing him proneness to being a "one man" dog.
English Springer Spaniel
A favorite for hunting, the English Springer Spaniel is active and built for endurance. He is easily trained and skilled at retrieving.
Field Spaniel
The Field Spaniel is agile and intelligent. He possesses great speed and endurance rendering him a great dog for sporting.
Flat-Coated Retriever
Popular in Great Britain, the Flat-coated Retriever is known as the gamekeeper's dog. His intelligence and ease with taking direction make him easy to train.
German Shorthaired Pointer
The German Shorthaired Pointer is known for his versatility. Qualities of power, agility and intelligence make him a great dog for tracking and retrieving game.
Golden Retriever
The Golden Retriever's loyal and trustworthy nature has made him a favorite in the West. He is an intelligent dog with great stamina and ability to follow a scent.
Gordon Setter
Appreciated mostly for his beauty and scarcity, the Gordon Setter's hunting skills are often overlooked. He is thorough and business like, as well as extremely loyal.
Irish Setter
Highly affectionate and eager to please, the Irish setter is a great companion. He is considered to be a general purpose dog, capable of a wide range of tasks.
Irish Water Spaniel
The Irish Water Spaniel's strong swimming skills and rugged endurance make him the perfect dog for duck hunting. He displays great eagerness and learns quickly from experience.
Labrador Retriever
Good tempered and very intelligent, the Labrador Retriever is a popular breed in America. He is a skilled retriever in all terrains.
Pointer
Need a companion dog that will work well in the field and be at home with the family? You can't go wrong with a Pointer.
Sussex Spaniel
Although good at retrieving, the Sussex Spaniel is not known for his speed. He has an excellent disposition and is a hard and lively worker.
Weimaraner
Extremely versatile, the Weimaraner is very rare and sought after. He is lively, kind, obedient and fearless in nature.
Welsh Springer Spaniel
Hard working and able to withstand harsh elements, the Welsh Springer Spaniel is excellent at retrieving from land and water. He is strong and independent with a merry disposition.
Wirehaired Pointing Griffon
The Wirehaired Pointing Griffon can be a great companion to any family. Considered a sporting dog, this breed loves spending time in the outdoors and in the field.